← Older posts
Newer posts →
December 13, 2012
Casella Waste Systems Inc.'s new operations chief believes the company's future success depends on those closer to the customer.
Newly installed Chief Operating Officer Ed Johnson replaced Paul Larkin, who left the company amid the release of what the company called disappointing financial results. And the new COO is banking on the ability of local employees to do their jobs.
"I believe that success in the waste business is dependent on the strength of our local management teams and their ability to manage and develop our businesses in their markets," Johnson said on his first conference call as COO.
"They need to have the clear responsibility and authority to make the decisions in their markets, but with that comes clear accountability," he said.
Johnson had been chief financial officer at Rutland, Vt.-based Casella Waste since 2010, following a stint in the same position for Waste Services Inc. prior to that company's purchase by Progressive Waste Solutions Inc.
He takes operational control of a firm that has been trying to turn the corner for years.
"What is particularly frustrating is that the operating and economic environment remains unpredictable, difficult and stagnant, often canceling out the impact of the hard work that we have been aggressively doing to put the company in a position to succeed," CEO John W. Casella said on the same call.
"We've taken smart, aggressive steps in the areas of the business within our control every day, doing the things that we believe should allow us to harvest value from our assets. Yet a stagnant, uncertain economy is creating headwinds," Casella said.
That's where the leadership change comes in.
"The board and I have immense faith that Ed will provide new direction and effective leadership to our operations. Ed's vision for the organization is to further the states that we took this summer to simplify our business structure and move operational control to our local management teams," the CEO said.
News of the leadership change comes as Casella Waste reported a net loss attributable to common shareholders of $21 million, or 68 cents per common share, on revenue of $120.3 million for the company's second fiscal quarter which ended Oct. 31. That compares with a net loss of $800,000, or 3 cents per share, on revenue of $129.9 million for the same quarter last year, the company said.
This quarter's loss includes $1.8 million related to severance and reorganization changes, $9.7 million related to debt extinguishment, $3.9 million from what the company called "derivative instruments" and $100,000 in expenses related to its Maine Energy Recovery Company waste-to-energy plant.
Excluding one-time charges, the net loss would have been $5.7 million, or 18 cents per share, for the most recent quarter. Stock analysts had predicted a loss of 13 cents per share for the quarter, according to Yahoo Finance.
"I believe that this change will provide a much-needed cultural shift to improve accountability throughout the organization to get us on track," Casella said.
The company also named Ned Coletta as chief financial officer and senior vice president. He previously was vice president of finance and investor relations.
Casella Waste, meanwhile, finalized sale of its Maine Energy Recovery Co. waste-to-energy plant to the city of Biddeford, Maine, on Nov. 30. Biddeford, which wants the site closed, will pay $6.65 million over 21 years. The community entered into a 10-year waste handling agreement with Casella Waste as well as a 10-year recycling deal.
The plant will be dismantled and waste directed to that site will go to other company landfills. CasellaWaste can continue to operate the incinerator for up to six months following the sale.
Posted in
Uncategorized
|
Leave a comment
December 13, 2012
Nearly 500 kids flooded into Curtis Park on Wednesday morning for the annual Miami Police Holiday Celebration.
Exuberant students ages 5-10 jumped in bounce houses, scampered up climbing walls and chased each other across the football field in a carefree morning of holiday fun, culminating with a visit from the man of the season: Santa.
This is the 18th year Miami police have invited underprivileged children to enjoy a holiday party, organized by the Police Athletic League. With donations from corporate sponsors including Walmart, Target and Winn Dixie among others, police officers bought more than 600 toys, cutting their Thanksgiving short to brave the Black Friday crowds. The police department was then transformed into Santa's workshop as officers individually wrapped each present, labeled with a child's name, age and school.
The students who got to participate were chosen from 32 Miami elementary schools, identified by their teachers based on economic need.
Shenandoah Elementary school counselor Silvia Diaz sat in a circle on the side of the football field with about 15 students munching on pizza and nachos. Earlier that morning, she'd told the selected students that they were "going on a field trip to the park." They didn't know they would meet Santa or that two of them would leave with a new bike.
"They're super excited," Diaz said. "Even when they were just sitting in the bleachers before everything started, they were like, 'This is the best field trip ever!' "
In addition to the presents that were chosen for girls and boys of different ages, the kids also got science-themed figurines donated by toy company Safari and a bag of candy wrapped by Girl Scout troop 1239.
At around noon, a police car pulled into the park with lights flashing. The kids went wild.
Santa, no doubt suffering in his North Pole outfit on the 80-degree South Florida afternoon, worked the crowd like a politician — shaking hands, granting wishes and posing for pictures. He took the stage with bags of presents divided by school and 20 brand new bikes to be raffled off.
"Are y'all ready for Christmas?" Santa yelled into the microphone.
"Yeah!" 500 kids yelled back.
"Have you been good this year?"
"Yeah!"
"Well I guess I'll be visiting each of your houses soon…"
"Yaaaaaaaaaay!!!"
As a police lieutenant read the names of children who would receive bikes, the winners jumped out of the bleachers, ran down to shake Santa's hand and wheeled their new bikes over to the tent where volunteers from Jackson Memorial gave each proud bike rider a free helmet.
Danielle Bertin, 9, of Morningside Elementary School, couldn't stop smiling as she waited patiently with her new turquoise and white bike. She ran her fingers along the smooth frame and pretended to steer the handlebars like a racecar driver. A fourth-grader at Morningside Elementary, Danielle said she was going to ride her new bike with her dad in a park near her Little Haiti home. She'd never had a bike before, but she said she wasn't afraid to try to learn.
"My brother is 15 and he has a bike," she said. "He likes to teach me stuff like new things and geometry."
Read more here: http://www.miamiherald.com/2012/12/12/3139834/miami-police-throw-holiday-party.html#storylink=cpy
Posted in
Uncategorized
|
Leave a comment
December 13, 2012
MIAMI (CBSMiami) – More than a dozen suspected drug dealers
 and runners were taken off the street as part of a two-year joint federal and local investigation.
And U.S. Attorney Wifredo Ferrer says there are facing some serious consequences if they are convicted of federal charges including conspiracy to possess controlled substances with the intent to distribute. Twelve of the defendants could face up to 40 years behind bars.
"The message is that these individuals who are terrorizing these poor residents in these particular neighborhoods better watch out because we are working together," said Ferrer.
Ferrer told CBS4's Peter D'Oench that seven different law enforcement agencies including the D.E.A., Immigration and Customs Enforcement, the F.B.I. and Miami-Dade and Miami Police took part in the probe.
"The message here is plain and simple," Ferrer said. "We are going to put all our resources into this effort. That includes local, state and federal resources to go after the most violent members of our community that are wreaking havoc and take them off the street by using our federal statutes and by putting them away for a long time."
Ferrer announced Tuesday a 42 count indictment against 16 suspected members of a drug distribution network which operated in Overtown and Liberty
 City.
Those named in the indictment are Chuck Wayne Boyd, Anthony Delancey, Johnny Roy Tarver, Andre Antonio Jackson, Kalin Demetrius Marseus, Keyon Jamor Williams, Kerry Bernard Williams, Eddie Lonso Foster Jr., Donnie Earl Mathes, Vashawn Chanell Thurston, Richard Eugene Young Jr., Estmane Lucdor, Julius Waco Wade, Teshon Renee Yarbough, Miguel Angel Ortiz and Anthony Donnell Rose.
Ferrer told D'Oench that Boyd, who is known on the street as "Dread," "Jamaican" and "Bumble Bee" is a "prolific drug leader who any law enforcement person would tell you is a wanted man, with stash houses in Overtown and Liberty City."
Thirteen of those indicted have been arrested; three are still on the loose.
The drug distribution network dealt in heroin, cocaine, crack cocaine and marijuana.
Ferrer said cash, drugs and guns were seized, including four semi-automatic pistols and a shotgun.
"The investigation we are disclosing today led to a successful community impact prosecution," said Ferrer. "Together this incredible team of agents, police officers and detectives has made our community today just a bit safer by removing dangerous drug traffickers who had established their drug distribution rings in our community which were harming not only the adults there but also the children."
"I am pleased with our united efforts to stop the illegal drug activity in our neighborhoods. These defendants preyed on the residents of Liberty City and Overtown, and must now face justice for their crimes," said Miami Police Department Chief Manuel Orosa.
"It's a message for our residents that we haven't forgotten about you. Sooner or later, we are going to clean up your neighborhood and get these drug dealers out."
The operation was conducted in connection with the Overtown and Liberty City Violence Reduction Partnerships. The violence reduction partnerships were launched in October 2011 in Overtown and then expanded in July 2012 to Liberty City.
"The reality is drug trafficking has become synonymous with violence," said DEA Special Agent in Charge Mark R. Trouville. "The DEA is proud to be a part of the Overtown and Liberty City Violence Reduction Partnership and will stand in alliance with our law enforcement partners to combat these violent criminals in our neighborhoods."
Michael Nussbaum,. Acting Deputy Special Agent in Charge for DEA Miami said, "This ongoing investigation reminds us that some things never change. Drugs and gun violence go hand in hand. It is a vicious cycle."
The goal of the partnerships, according to Ferrer, is for federal and local law enforcement agencies to dismantle the most violent criminal networks in particular neighborhoods while working with community leaders and residents on how to identify and deal with issues in their neighborhoods.
"We view those Prosecutors as Problem Solvers," Ferrer said.
Ferrer said those arrested will make their initial appearances in front of U.S. Magistrate Judge Alicia Otazo-Reyes at 2 p.m. on Thursday
Posted in
Uncategorized
|
Leave a comment
December 12, 2012
The chief of the Doral Police Department, Ricardo Gomez, was unexpectedly dismissed from his post on Tuesday morning.
"This decision took me by surprise," Gomez said in a statement to El Nuevo Herald.
Lt. Miguel "Mike" Pérez was named as interim chief, said city spokeswoman Natalie French.
Gomez said he was summoned to a meeting with Acting Administrator Merret R. Stierheim, who presented him with two options: "Either you resign or you're fired."
"I told him to fire me," said Gomez, adding that he asked the manager if he could collect his belongings from the police headquarters, a request which was denied. The fired chief also was stripped of his assigned vehicle.
"It was outrageous. Now what I want is to talk to my lawyer to see what steps I will take," he said.
During the election campaign for mayor of Doral, the winning candidate Luigi Boria said there would be a transition process that would include keeping Gomez and Administrator Yvonne Soler in their posts. However, last week, Soler negotiated herretirement and the city council appointed Stierheim in her place.
This story will be updated as more information becomes available.
Read more here: http://www.miamiherald.com/2012/12/11/3137154/doral-police-chief-is-fired.html#storylink=cpy
Posted in
Uncategorized
|
Leave a comment
December 12, 2012
http://www.miaminewtimes.com/2012-12-13/news/convicted-felon-demetrio-perez-jr-gets-110-million-in-bonds-from-miami-dade-commission/
Posted in
Uncategorized
|
Leave a comment
December 12, 2012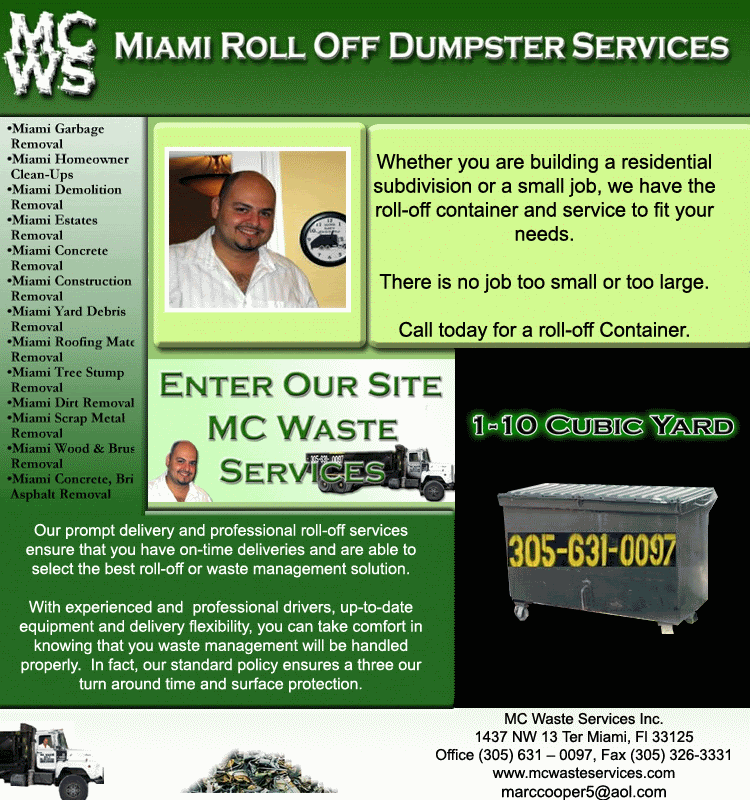 Posted in
Uncategorized
|
Leave a comment
December 12, 2012
Waste Management Inc. is increasing its quarterly dividend by a penny a share.
The Houston-based solid waste management company said the 2.8% increase from 35.5 to 36.5 cents per share each quarter will bring annual dividend payments to $1.46 per share.
"Our dividend increase reflects the continued strength in our cash flows," CEO David P. Steiner said in a statement. "In 2014, we expect our operating free cash flow to grow by double digits."
Waste Management plans to declare its first quarter dividend in February and expects to pay the increased amount for the first time in March.
This is the 10th year in a row that the company has increased quarterly dividends.
Posted in
Uncategorized
|
Leave a comment
December 12, 2012
Posted in
Uncategorized
|
Leave a comment
December 12, 2012
FBI investigating Miami cops in bookmaking case
At least one Miami police officer has been relieved of duty and arrests of several more officers are imminent in a federal investigation.
BY KATHLEEN MCGRORY AND JAY WEAVER
At least a half-dozen Miami police officers have been targeted by the FBI for their alleged roles in providing protection for a Liberty City sports gambling operation that was uncovered more than a year ago, according to authorities familiar with the case.
At least one Miami officer has been relieved of duty in connection with the investigation into the bookmaking business, which has been shut down, authorities said. The targeted officers were working off-duty details at a commercial business.
The initial probe by the FBI, which has been assisted by the police department, evolved into a broader investigation involving some of the officers. Arrests of at least six — and possibly more — Miami officers are imminent, according to authorities.
At the same time, the FBI is investigating other law enforcement officers around Miami-Dade who are suspected of participating in identity theft and tax refund schemes. Arrests in those cases are also on the horizon.
In the Miami investigation, neither Police Chief Manuel Orosa nor a departmental spokesman returned calls for comment. The department has refused to provide The Miami Herald with requested information on officers relieved of duty.
Miami Mayor Tomás Regalado said he did not know details of the investigation. But he tried to cast it in a positive light.
"To me, this investigation is not a black eye to the city or the police department. It's a good thing. It means we're moving forward with a better police force," Regalado told The Miami Herald.
City Commission Chairman Francis Suarez, however, said he would be requesting additional information to make sure the case does not reflect a systemic problem with the department or its leadership.
"Certainly, this is not good for the city," he said. "It doesn't improve the city's image."
The Liberty City gambling house investigation began more than a year ago when Miami police, under then-Chief Miguel Exposito, communicated with the FBI. Surveillance in Liberty City led to the spotting of a Miami officer who allegedly was seen offering protection for illicit activities.
The Miami Police Department, with roughly 1,100 sworn officers, has seen numerous officers suspended and fired in recent years because of their involvement in criminal activity, from ripping off drugs and money from dealers to fencing contraband such as stolen Bluetooth headsets.
The department is also under civil investigation by the U.S. Justice Department for police shootings that killed seven black men in the inner city in 2010 and 2011. Five of the men were unarmed. Chief Orosa has submitted an action plan designed to head off court-imposed reforms in that case.
The police department's morale has been low of late, but not necessarily because of the investigations. The police union has been battling the city over pay raises, health benefits and pension obligations for three straight years, though it did reach a recent agreement on salary hikes for 2014.
Sgt. Javier Ortiz, incoming president of the Miami Fraternal Order of Police chapter, said: "If the rumors I am hearing are true, I pray that the police department is cleansed expeditiously of those that have betrayed our commitment to our community.''
Unrelated to the Miami police probe, the FBI is also investigating a handful of officers in other South Florida law enforcement departments in connection with identity theft and tax refund scams.
The officers are suspected of swiping personal identity information, such as Social Security numbers and dates of birth, to file fraudulent tax returns with the IRS — a crime that has penetrated all aspects of society, including hospitals.
South Florida is one of the nation's hardest-hit regions for ID theft and tax fraud.
Read more here: http://www.miamiherald.com/2012/12/11/3137268/fbi-investigating-miami-cops-in.html#storylink=cpy
Posted in
Uncategorized
|
Leave a comment
December 8, 2012
For the last two years, the Town of Medley, namely Town Attorney Michael Pizzi and the attorneys at Waste Management, Inc., the landfill company in the west part of town, have worked at hammering out a long-term agreement.
Last Monday night, Dec. 3, with a brand new council led by new mayor Roberto Martell sitting in on their first meeting, a deal was struck between the two sides.
But it didn't come without Martell playing the role of Monty Hall as he drove the WM folks even harder for a sweeter deal for the town — and got it.
The initial agreement that had been struck between Pizzi and WM representatives called for a $1.2 million interest-free loan to be paid to Medley up front, to be paid back in five years with the first payment not due until 18 months from now and an annual host fee paid to the city of $50,000.
As good as it sounded, it wasn't good enough for Martell.
"I appreciate all the work that's been done on this, but I'm hoping you might be able to come a little further for us," said  Martell, who then asked for $1.5 million for the town, the loan payback time frame to go from five years to seven, first payment due from 18 to 24 months and the host fee to jump to $60,000. "We've had a terrific relationship with Waste Management over the years and certainly want that to continue."
"Wow, I think I've been squeezed so much my bones are starting to shake," Waste Management president Alex Gonzalez said when he approached the podium. "If this is your first meeting as mayor, you're off to a good start."
Gonzalez and Martell then proceeded to banter back and forth in an open forum of negotiations in which Gonzalez reached out.
"How bout if I give you three of the four," said Gonzalez. "We'll go for the $1.5 million, the 24 months and the seven years."
But Martell, like a good union attorney still wouldn't quite give in.
"How bout if we go for 31⁄2," said Martell. "We'll meet you halfway on the host fee and settle for $55,000."
Gonzalez shook his head from side to side and ultimately relented, agreeing to Martell's proposal.
The council voted for it unanimously and a new agreement, which will be a sweetheart of a deal for the town, was in place. Medley ultimately will see more than an extra $500,000 go into its annual coffers with the added host fee and the deal is locked up until 2032.
"This was two years of hard work in the making and I just want to thank all of my staff, including Lina (Town Clerk Herlina Taboada) for a job well done," said Pizzi. "You as a town have done the right thing here and all parties are going to be rewarded down the road."
In other council news:
• It did not turn out to be a good night for Bob Ruiz, the town's electrical inspector, because by the end of the meeting, he was the town's former electrical inspector.
Vice Mayor Griselia Digiacomo made a motion that he be terminated, new councilperson Susana Guasch issued a second and a vote was taken. The vote was 3-2 to pass the motion.
Read more here: http://www.miamiherald.com/2012/12/06/3128132/medley-council-reaches-20-year.html#storylink=cpy
Posted in
Uncategorized
|
Leave a comment
← Older posts
Newer posts →